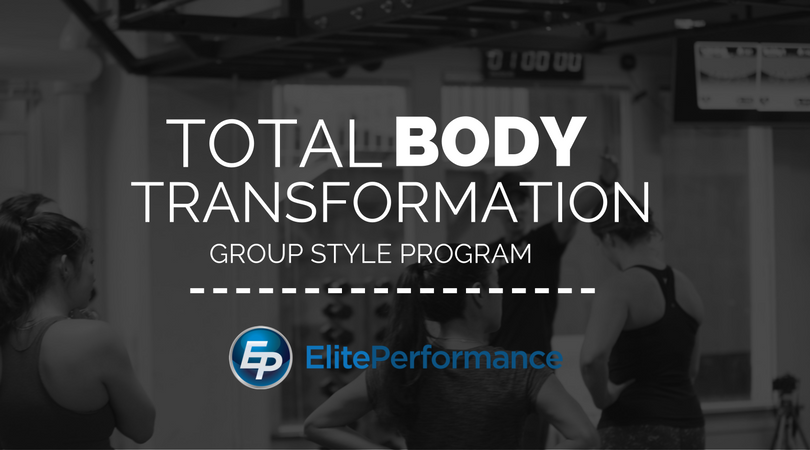 8 Week Total Body Group Transformation
On January 15th Elite Performance will be launching our Total Body Transformation Group Program! We are so excited to be able to offer our clients the chance to dramatically improve their physique using our proven method that was previoulsy only available to personal training clients.
This format is not only more affordable but also offers the support and comradery of other participants following the same journey.
Who is this program for?  
Anyone looking to change their body composition by losing unwanted fat and adding lean muscle mass. Although you will be working out in a group your program and exercises will be modified to fit your individual health and fitness goals.  
What's included?  
An intake day where we do weigh-ins, personal evaluations and provide a program overview
24 Training sessions that will provide an efficient anaerobic and aerobic work-out, using full body movements to build overall strength and reduce body fat, including weight training and high intensity interval training
Meal plans, we will be working with Elite Performance Nutritionist Jill Trigg to develop a nutritional plan that will support your goals
Tracking, your trainer will work with you to track your results throughout the program, adjusting when needed, there will also be a 1/2 way point and final weigh-in, including before and after pictures
 Schedule:  
The program will run for 8 weeks with sessions launching on January 22nd:
Mondays & Wednesdays at 7pm and Fridays at 6pm
Located at the Elite Performance training studio in Downtown Vancouver.  
Total cost for the complete program is $599, spots are limited!
For new clients you will be required to create a new login (it only takes a minute!) once logged in navigate to "Online Store" and select "Classes" to find the "Total Body Transformation Group Program"