Nothing in life worth having comes easy, so we won't sugar coat it,  if you want a banging body then you'll have to work for it. The classes at Elite Performance are challenging and they are designed to whip you into shape as quickly and efficiently as possible. Next time you join us at PowerFit here's what you can expect:
• Small group training with a maximum of 12 participants, this allows our Class Coaches the ability to individually tailor each participant's weights and exercises depending on their current fitness level
• A total body workout combining anaerobic training with strength training
• Come to classes regularly and you can expect to see a reduction in body fat, an increase in lean body mass, improved aerobic and anaerobic capacity and an increase in strength
Class Layout
• 10-15 minute warm up
• 45 minutes of training
• 4-5 training blocks with 2 exercises per block (considered a super set)
Supersets save time by reducing the rest interval between two exercises, shortening the rest period between sets increases the intensity of your workout. Supersets also increase the intensity of your workout by overloading a muscle. This format increases the intensity while still making it possible for all fitness levels to participate.
45 seconds per exercise with 15 seconds rest in between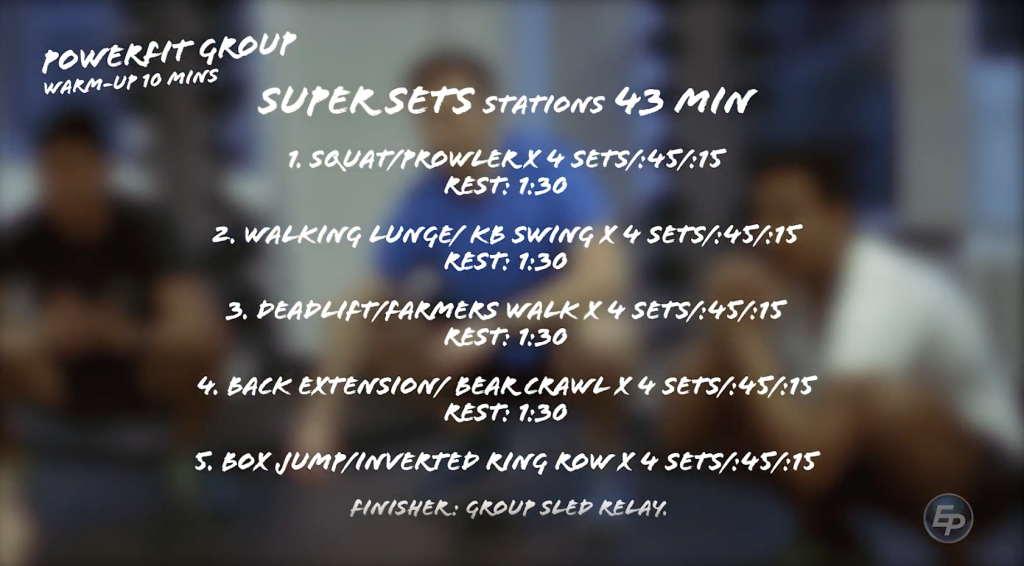 PowerFit classes are held:
Mondays, Wednesdays and Fridays at 7am and noon
Mon-Fri at 6am
Weds 5pm
Class Coaches:
Kevin Maynard
Andrew Smyth
Stefan Stewart
Register and purchase classes online at epfitness.ca